Paris Norton, lead artist on the CETA project, reflects on her recent visit to Goulburn, where she presented the possibilities of bringing arts, culture and technology together.
We were thrilled to receive an invitation from Southern Tablelands Arts to talk about our latest program, CETA – contemporary environment technology and arts – especially with a group of people who are inspired by the possibilities of what these tools can bring to the art world.
The road from Dubbo to Goulburn is one of many shapes and textures. From dense bushland to canola covered hills to rolling mountains that shelter the valleys from the cold winds of the south, it provides just the right recipe for reflection and creative thinking – which is what's needed a few hours before a presentation, especially one fusing place, culture and technology arts.
A room full of people from the Southern Tablelands science hub network community – including the Mayor and new Goulburn Gallery manager – joined us for the evening. Our presentation explained our goals and vision for the CETA project and what that means to us, not only as Orana Arts but as community members.
When it came time to demonstrate the technology that we had brought along, it was then that you saw the full effect of what technology and art can do across generations. I was delighted to see a young boy interact with robots, seeing the potential in their abilities and putting them to the test, an elderly gentleman learning about a drone and watching his eyes tick over as he contemplated its uses. It was humbling to see the group as a whole with big smiles, as interesting and creative conversations filled the room.
I was honored to receive such warm and passionate feedback and couldn't help my mind running off with the possibilities of what a program like CETA could do for their communities as I later drifted off to sleep.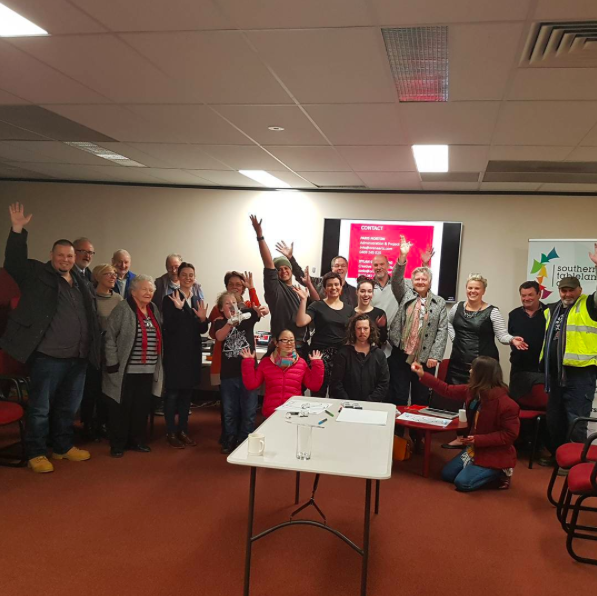 The next morning, we were scheduled to present CETA at a local high school; a practical and fun session with our various technologies.
Almost 40 children bustled into the room with curious faces so we wasted no time, jumping into practical play after a brief introduction. The children were broken into groups and robots were divided between them. They were to experiment with the robots and reflect on what their use could be. The energy in the room immediately went from 50% to 110% – with laughter, teamwork and excitement reverberating around the room and corridor outside.
The group had many exciting ideas for these robots; from turning them into futuristic cars that take tourists around town, to outer space and mini cave explorers. It was clear that technology has its place amongst this generation and that in the hands of these young people really anything was possible.
A positive creative session flows into positive social benefits. Children who usually found large group sessions confronting and unappealing were interacting with the technology with enthusiasm and confidence. The class came together to create a large-scale track made from their initial experimental drawings and students took turns in navigating the robots through this maze.
High excitement levels only increased with the next activity: it was time to fly the drone. The children were given a demonstration of how the drone worked and then as a group made shapes with their bodies that would be recorded from above.
By the end of this session we were left with a sense of hope for what these participants could grow to do with these technologies and how it could influence art, lifestyle and culture. This experience cemented the importance of CETA in our communities and inspired us for our journey ahead.
Thank you so much for the opportunity, Southern Tablelands Arts!
If you are interested in more information on the CETA program, or in arranging a talk or workshop for your area, please contact us via info@oranaarts.com